About Ohio Dairy Producers Association
ODPA is a united group of dairy farmers who share a genuine concern for the future of their farms and their industry.
T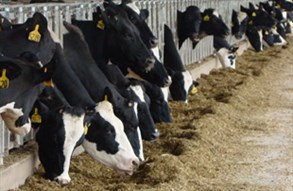 he Ohio Dairy Producers Association is a grassroots legislative, research, and producer education organization, representing dairy farmers from across the state, regardless of farm size, breed or production strategy, marketing preference, or political affiliation.
ODPA is governed by a Board of Directors consisting of representatives from farm and organization members. Organization members include COBA/Select Sires Inc., Dairy Farmers of America - Mideast Area, DHI Cooperative Inc., Michigan Milk Producers Association, National Farmers Organization, Ohio Purebred Dairy Cattle Association, Scioto Co-Op Milk Producers Association and Select Milk Producers Inc.
---
"Dairy farmers must work together to address issues facing us and protect the future of our industry."
- Joe Miley, ODPA Chair & dairy farmer from Wayne Co.
---
Advocating for Dairy Producers
ODPA speaks with a unified voice to support or oppose proposed legislation and policy that might affect the dairy industry. ODPA also monitors regulatory activity and tracks important issues. When necessary, ODPA members are activated to further support ODPA's position.
Serving our Membership
ODPA offers its members producer education opportunities and access to Ohio dairy news and issue updates. Membership also provides an opportunity to participate in a Group Workers Compensation program.
Moving the Industry Forward
To strengthen Ohio's dairy industry, ODPA works closely with the Ohio Dept. of Ag, other government agencies, and the Ohio State University on topics like on-farm issues, environmental policies, and product innovation.
ODPA also works in tandem with the dairy promotion checkoff program to protect the image of dairy farmers by providing consumers with facts about animal care, environmental stewardship, on-farm practices and food safety.